The Planning Survey 19 by BARC - The world's largest survey of planning software users
---
12 top rankings and 9 leading positions for CCH Tagetik Budgeting and Planning. Discover why our customers love planning with CCH Tagetik.
---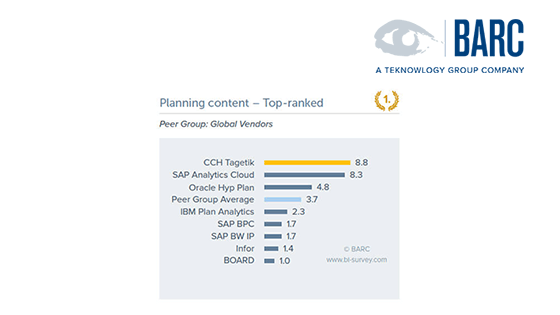 In the new "The Planning Survey 19" the research and consulting institute BARC (Business Application Research Center) analyzed 22 products in detail using 28 KPIs including business benefits, project success, business value, customer satisfaction, planning functionality etc in the period from November 2018 to February 2019.
With 1,367 financial and technical users of planning, budgeting and forecasting solutions responding to this survey, CCH Tagetik convinced with 12 top rankings within 3 different peer groups highlighting a global customer satisfaction rate of 97%.
Source: BARC (Business Application Research Center),"The Planning Survey 19", May 21, 2019
Download the report
Download Barc's survey to discover why CCH Tagetik convinced with 12 top rankings

---
The Planning Survey - Highlights for CCH Tagetik:
---
KPI RESULTS: 12 top-rankings and 9 leading positions in 3 different peer groups
SATISFACTION: 97% of surveyed users are satisfied with CCH Tagetik
USERS: On average, 79% of CCH Tagetik users in a company use it for planning and budgeting
PRICE-TO-VALUE: 81% of surveyed users rate CCH Tagetik's price-to-value as excellent or good
---
---
BARC — Business Application Research Center
BARC is a leading enterprise software industry analyst and consulting firm delivering information to more than 1,000 customers each year. Major companies, government agencies and financial institutions rely on BARC's expertise in software selection, consulting and IT strategy projects. For over twenty years, BARC has specialized in core research areas including Data Management (DM), Business Intelligence (BI), Customer Relationship Management (CRM) and Enterprise Content Management (ECM). BARC's expertise is underpinned by a continuous program of market research, analysis and a series of product comparison studies to maintain a detailed and up-to-date understanding of the most important software vendors and products, as well as the latest market trends and developments. BARC research focuses on helping companies find the right software solutions to align with their business goals. It includes evaluations of the leading vendors and products using methodologies that enable our clients to easily draw comparisons and reach a software selection decision with confidence. BARC also publishes insights into market trends and developments, and dispenses provenbest practice advice. BARC consulting can help you find the most reliable and cost effective products to meet your specific requirements, guaranteeing a fast return on your investment. Neutrality and competency are the two cornerstones of BARC's approach to consulting. BARC also offers technical architecture reviews and coaching and advice on developing a software strategy for your organization, as well as helping software vendors with their product and market strategy. BARC organizes regular conferences and seminars on Business Intelligence, Enterprise Content Management and Customer Relationship Management software. Vendors and IT decision-makers meet to discuss the latest product updates and market trends, and take advantage of valuable networking opportunities. For further information see: www.barc-research.com