21 October 2014 - Stamford, CT, and San Francisco, CA (USA)
---
Tagetik Wins Ventana Research Technology Innovation Award for the Office of Finance
---
Collaborative Disclosure Management automates the creation of any report combining financial data and narrative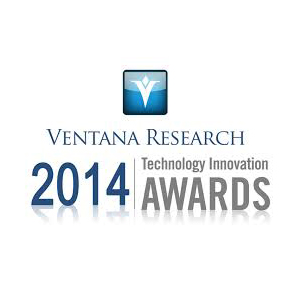 Tagetik, a visionary provider of global performance management software solutions, announced today that it is the recipient of Ventana Research's Technology Innovation Award for the Office of Finance. Tagetik won the award for its Collaborative Disclosure Management (CDM) solution.
Tagetik's Collaborative Disclosure Management solution automates the creation of any type of formatted report that combines numbers and narrative, typically involves significant collaboration and input from multiple stakeholders, and requires extensive editing and reviews. Customers use Tagetik CDM for all types of reporting – ranging from SEC-mandated filings such as 10Qs and 10Ks and other regulatory or industry-specific reports to board books, press releases, Word documents, PowerPoint presentations and annual, quarterly and management reports.
The award will be presented today at the annual Ventana Research Summit, this year held at the Hyatt Regency, San Francisco Airport. The Technology Innovation Awards program, which encompasses 28 business and technology categories, is designed to recognize pioneers that have developed clear visionary and transformative technology that can be used to drive improved efficiency and productivity as well as the outcomes and performance of an organization.
"The Technology Innovation Awards acknowledge and honor the technology that matters most to business and IT and recognize technology innovations that do the most to improve productivity and outcomes," said Mark Smith, CEO and chief research officer of Ventana Research. "We extend our congratulations to Tagetik for advancing collaborative financial reporting.
The automation and work flow management offered by its CDM solution save significant professional time and yield improved, accurate, and truly collaborative reporting." "We're honored to receive this award and pleased that Ventana Research recognizes the productivity value of our solution," said Dave Kasabian, senior vice president of product marketing and strategy for Tagetik.
"Moving from traditional, largely manual financial reporting to integrated financial and narrative reporting is the next evolutionary step for corporate finance. Leading companies are adopting 'value reporting' such as that recommended by the International Integrated Reporting Council in its International Integrated Reporting Framework. Tagetik is proud to help our customers move to this next level and realize the benefits it brings."
Tagetik CDM can be used as a stand-alone solution with existing ERP and financial systems, including Oracle Hyperion HFM or SAP BPC, or in conjunction with Tagetik 5 for a true end-to-end financial solution on a single, unified platform.  
For more information on Tagetik CDM solution, download detailed documents or watch our short demo here.
Ventana Research    Ventana Research provides insight and expert guidance on mainstream and disruptive technologies through a unique set of research-based offerings including benchmark research and technology evaluation assessments, education workshops and its research and advisory services, Ventana On-Demand. Ventana analysts offer clients an unparalleled understanding of the role of technology in optimizing business processes and performance; their best-practices guidance is rooted in the company's rigorous research-based benchmarking of people, processes, information and technology across business and IT functions in every industry. This benchmark research, coupled with extensive market coverage and in-depth knowledge of hundreds of technology providers, helps its clients increase the value they derive from technology investments while reducing time, cost and risk. For more information, visit www.ventanaresearch.com
Request a Demo
Our personalized demo allows you to speak directly with a senior solution specialist and discover the key functionalities of CCH Tagetik.
Would you love to know more about CCH Tagetik?
For more information, please complete the form and a member of our team will reach out to you shortly!