Drive profitability and maintain compliance with CCH Tagetik Solutions for Banking & Financial Services
---
Over-regulation jeopardizes growth and profitability in banking. Finance is tasked with balancing compliance costs with performance goals. Help is at hand: by automating regulatory reporting, end-to-end planning processes  and profitability analysis, CCH Tagetik for Banking & Financial Services helps you meet regulatory mandates while freeing up time to focus on business performance.
With the digital shift to mobile banking, and the unprecedented need for convenience and speed, business agility is the new imperative. CCH Tagetik enables rapid, automated insights. Our intuitive dashboards, dynamic P&Ls, and responsive balance sheet plans update with real-time data so you can see loan deposits impacts, instrument profitability, and interest rate variances. Get compliant and drive profitable growth with CCH Tagetik.
3 reasons why CCH Tagetik for Banking & Financial Services lets you focus on your business
Forecast Loan and Deposit Growth
Planners can forecast spreads for anticipated loan and deposit growth, compare different rates, and assess how results impact long range plans, the P&L, balance sheet, and cash flow.
Instrument-level Planning
Use driver-based modeling to plan at any level. You can drill-down into instrument level details to see loan amounts and account details, then quickly adjust drivers and update forecasted loan payment cash flows.
Gain Insights into Portfolios
Get visibility into balance sheet details. Track the intricacies of each instrument's interest rate, maturity, and payment stream with portfolio forecasting.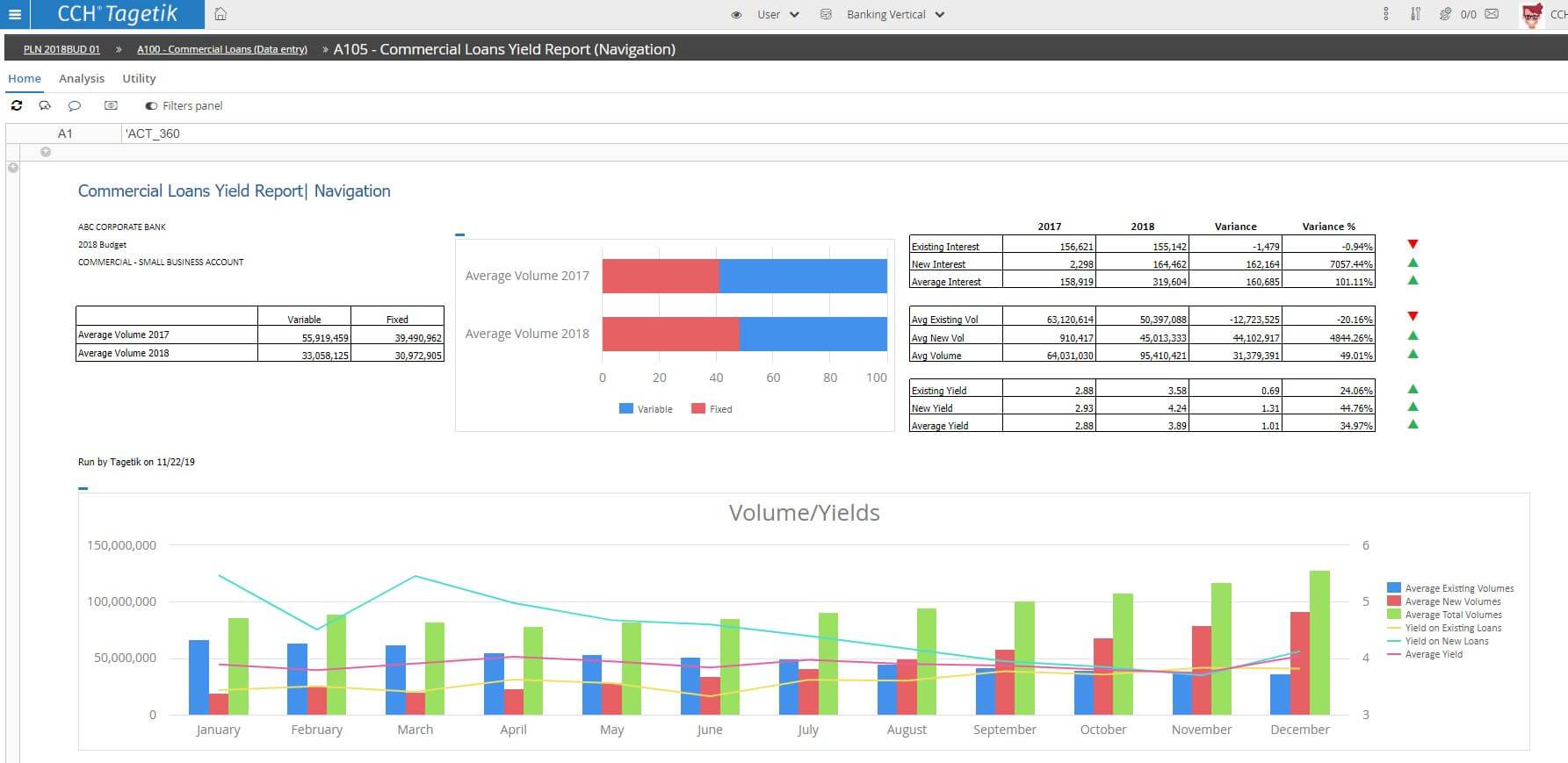 Explore the Details of Profitability
Navigate the FinTech disruption by knowing the true profitability of every branch, online channel, product, and customer. Leverage banking-specific expense drivers and pre-built revenue planning templates for OPEX, CAPEX, and payroll for more in-depth, comprehensive plans.
Boost, branch, service, instrument profitability
Play what-ifs to adjust interest rate drivers
Detailed-level allocations for product costing
Consolidated and statutory reporting
Analyze pricing and margins scenarios
Get Compliant with a Trusted Corporate Performance Solution
From consolidation, to portfolio forecasting, to statutory reporting, banks trust CCH Tagetik. Our solution centralizes and validates corporate information, all while maintaining the data's integrity using embedded banking intelligence. You'll meet compliance requirements every step of the way.
One solution for financial and statutory reporting
Collaborate on transfer pricing options
Integrated payroll and FTE Planning
Get compliant via packaged regulatory solutions
Improve transparency with integrated workflow
CPM Solutions for Banking & Financial Services Resources
How to Achieve Financial Consolidation, Management and Regulatory Reporting Excellence in Banking. Interview with Top Executives
The Banking CFO: How Profitability Analysis Powers Banks
Banking Insights From Deloitte: How to Optimize Budgeting & Planning
Happy Customers
CCH Tagetik's CPM Solutions for Banking & Financial Services is trusted by leading companies across all industries.
Request a Demo
Our personalized demo allows you to speak directly with a senior solution specialist and discover the key functionalities of CCH Tagetik.
Would you love to know more about this Application?
For more information, please complete the form and a member of our team will reach out to you shortly!
CCH Tagetik truly delivers a single source of truth on a single platform for all of our key financial data. It's been a long-term goal to get there in finance, and it's actually happening. Everyone is seeing the same data and presenting the same results.

Meghan Maze
Chief Accounting Officer at Rabobank
With CCH Tagetik, we can fulfill IFRS and FinRep requirements in a single application, while establishing a flexible framework for various tasks throughout the group. Since we can now quickly respond to new ex-ternal requirements and internal ad hoc inquiries, we feel well equipped for the future.

Barbara Kainz
Director Group Consolidation at Erste Group
CCH Tagetik went straight to the point and focused exactly on our needs. We are proud to be the first CCH Tagetik customer in Brazil.

Rafael Yoshihara
Financial Planning Coordinator at Banco Toyota do Brasil